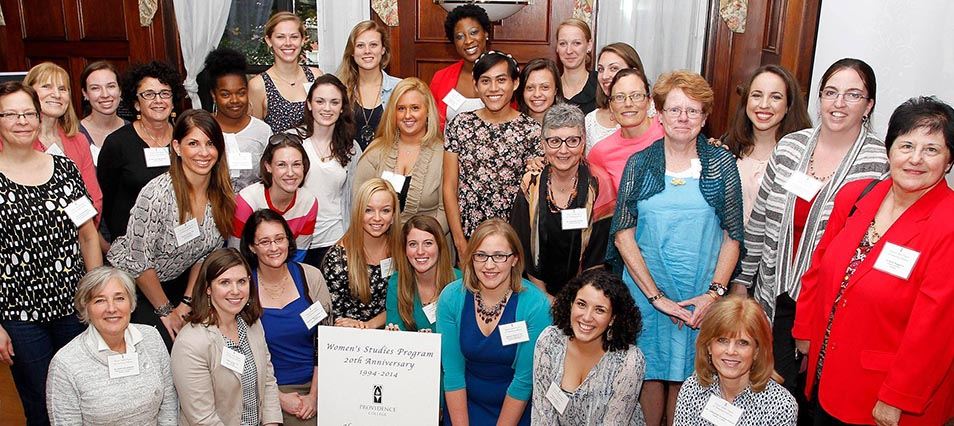 Women's Studies
Welcome to the Women's Studies Program at Providence College! Our program offers students a rigorous interdisciplinary major, minor, and a core focus, drawn from a rich and diverse array of courses taught by an enthusiastic and passionate faculty. Women's Studies courses place women's lives, perspectives, and experiences at the center of inquiry, and emphasize race, class, gender, sexuality, culture, ethnicity, nationality, age, and ableism as intersecting categories of analysis.
The Women's Studies Program encourages active learning and critical thinking inside and outside of the classroom. In addition to a well-rounded academic course of study, the program supports through co-sponsorship with other departments and programs and in collaboration with student groups and organizations, a robust schedule of lectures, discussions, panels, screenings, and workshops throughout the academic year. The Women's Studies Program also encourages student engagement and involvement in local women-centered community organizations with whom we have long-standing relationships and partnerships.
The interdisciplinary framework of the Women's Studies Program combines easily and constructively with other majors and minors — for instance Women's Studies students can combine their majors and minors with majors and minors in Sociology, Political Science, English, Health Policy Management, Black Studies, American Studies, History, Global Studies, Biology, Business, Social Work, Languages, Art and Art History, and Theater, Dance, and Film. Recent graduates in Women's Studies have gone on to careers and graduate study in fields as diverse as global and national health and health services, science, creative writing and publishing, business, marketing, the non-profit sector, governmental policy, law, philanthropy, counseling and psychology, secondary education, and higher education.
We invite you to peruse our Women's Studies website to learn more about our major and minor, our course offerings, our recent campus programming, as well as local and national Women's Studies resources and organizations.
We look forward to hearing from you!
Spring 2019 Events
Recent Events

This counts as a Women's Studies Program event!
BOP and Shepard present
 
These count as Women's Studies Program events!
Naturalista Expo

This counts as a Women's Studies Program event!
Ending Long-Term Homelessness in Rhode Island

This counts as a Women's Studies Program Event!
Judge Victoria Pratt

This counts as a Women's Studies Program event!
Take Back the Night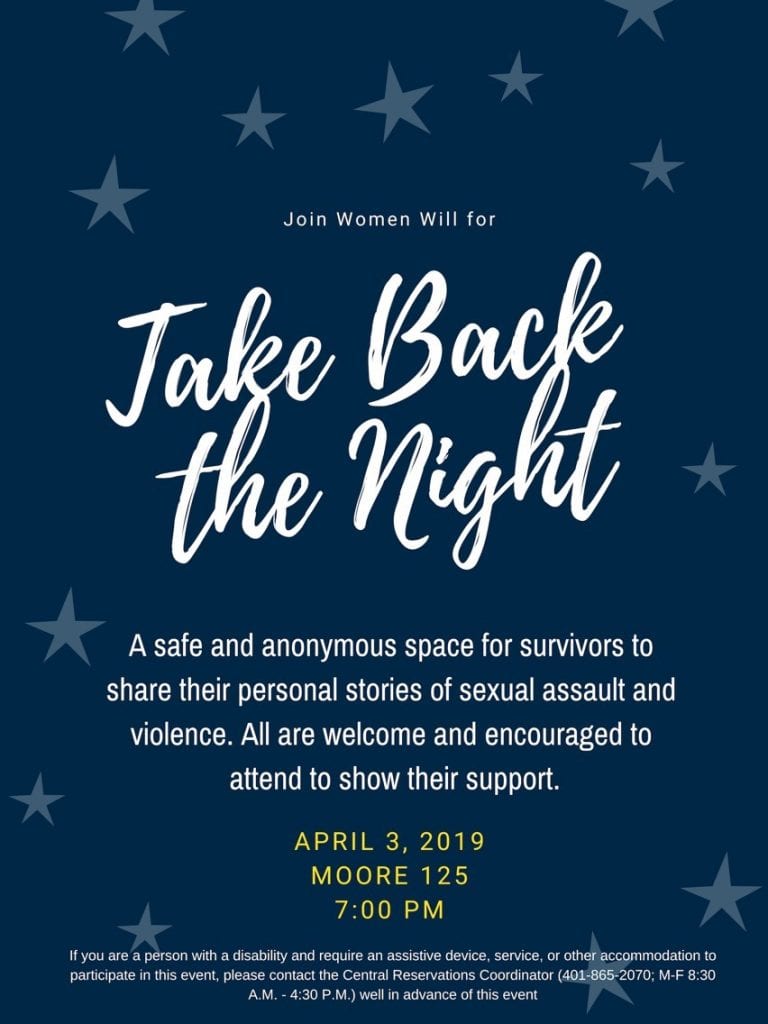 Artist Caitlin Cherry draws as much from the traditions of art history as from the trailblazing feminist theory authored in this technology-saturated age. A solo exhibition of newly commissioned artworks at Providence College's Reilly Gallery in the Smith Center for the Arts, Dirtypower merges two of the artist's recent interests: imagery warped by Liquid Crystal Display (LCD) monitor technology, and the representation of black female bodies in institutions and media. At this event the artist will lecture on the themes of her artistic practice and participate in a discussion on key themes and ideas of her artworks with Providence College faculty and other guest scholars.
This counts as a Women's Studies Program Event!
Vagina Monologues, Wednesday, February 20th, 9 PM, and Saturday, February 23rd, 1 PM, AA 220, 115 Empire Street, Providence, RI 02903
Tickets sold at the door!
Organized by students of Providence College
Providence College students present our 2019 production of The Vagina Monologues! Written by Eve Ensler and based on interviews with over 200 women, The Vagina Monologues is a play that seeks to help women reclaim their power and strength, as well as raise awareness about global patterns of violence against women. The show is performed annually in February by groups around the world, and all proceeds from these productions are donated to a non-profit organization of the group's choosing. All proceeds from our show go to support Sojourner House, an advocacy and support center in Providence for survivors of domestic violence. This will be the 17th year that Providence College students have performed the The Vagina Monologues and the 14th year that we will be putting on this production without the support or recognition of the school. Please come support our show and our mission to end global violence against women and girls!
This counts as a Women's Studies Program Event!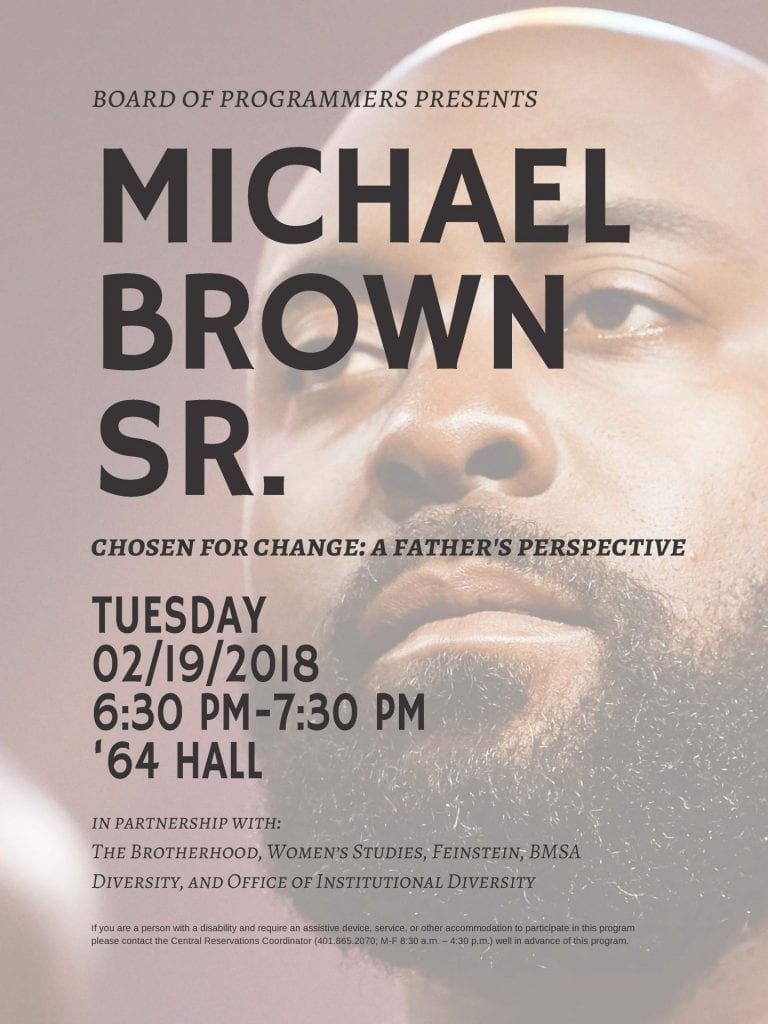 This counts as a Women's Studies Program Event!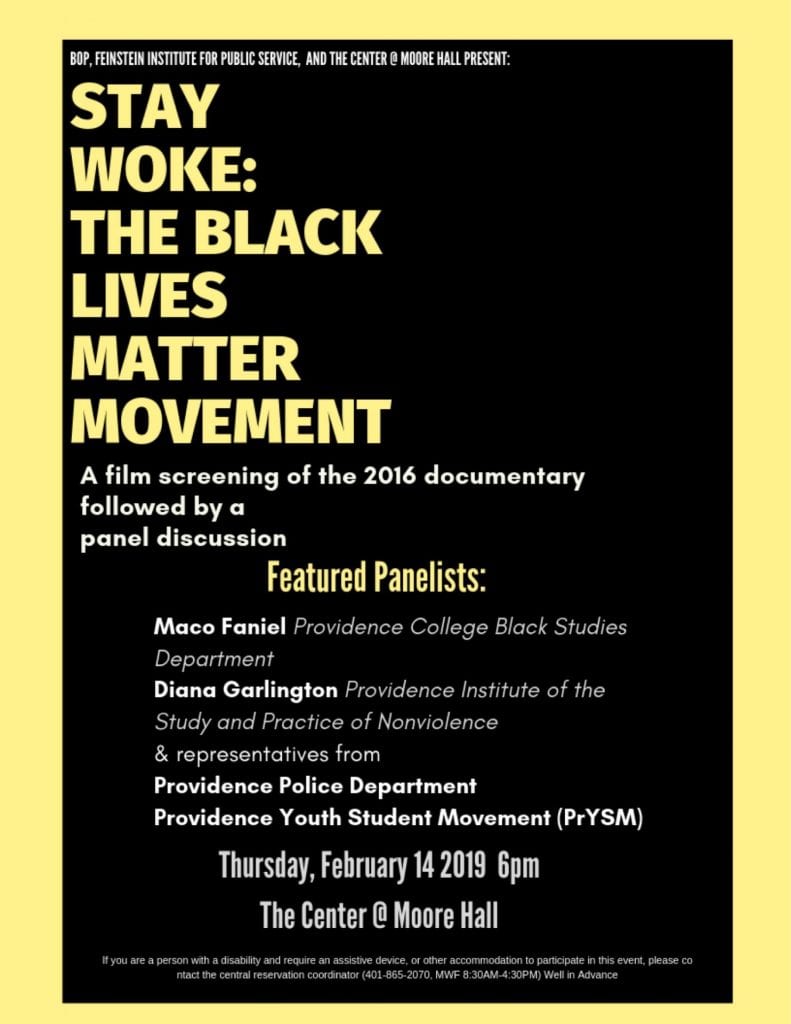 This counts as a Women's Studies Program Event!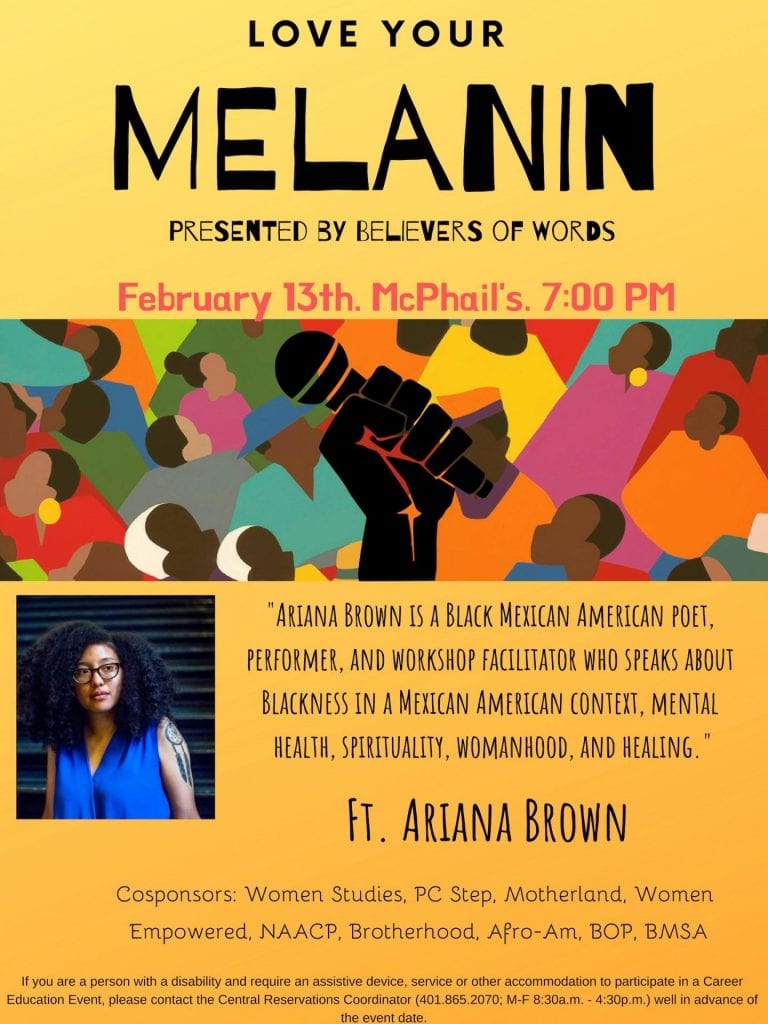 This counts as a Women's Studies Program Event!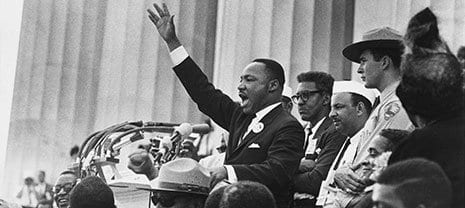 Learn about all the great events during Providence College's MLK Convocation Week, including the newest addition, the Humanities Forum featuring Nikole Hannah-Jones, an award-winning writer for The New York Times Magazine and a 2017 MacArthur Fellow.
Other highlights from the week include Conversations for Change Inspired by the Rev. Dr. Martin Luther King Jr. on Monday, Jan. 21; MLK Candlelight Vigil on Wednesday, Jan. 23; and the MLK Convocation featuring keynote speaker Rev. Nontombi Naomi Tutu on Thursday, Jan. 24.
Learn More About MLK Convocation Week Events >
All of these events count as WMS Program events.
ABOUT NIKOLE HANNAH-JONES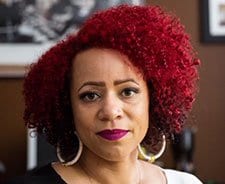 Nikole Hannah-Jones covers racial injustice for The New York Times Magazine, and has spent years chronicling the way official policy has created — and maintains — racial segregation in housing and schools.
In 2017, the MacArthur Foundation board recognized Hannah-Jones for "chronicling the persistence of racial segregation in American society, particularly in education, and reshaping national conversations around education reform."
Her piece "Worlds Apart" in The New York Times Magazine won the National Magazine Award for "journalism that illuminates issues of national importance" as well as the Hillman Prize for Magazine Journalism. In 2016, she was awarded a Peabody Award and George Polk Award for radio reporting for her This American Life story, "The Problem We All Live With." She was named Journalist of the Year by the National Association of Black Journalists, and was also named to The Root 100. Her reporting has also won Deadline Club Awards, Online Journalism Awards, the Sigma Delta Chi Award for Public Service, the Fred M. Hechinger Grand Prize for Distinguished Education Reporting, and the Emerson College President's Award for Civic Leadership. She was a previous finalist for the National Magazine Award. Read more about Hannah-Jones. >
Fall 2018 Events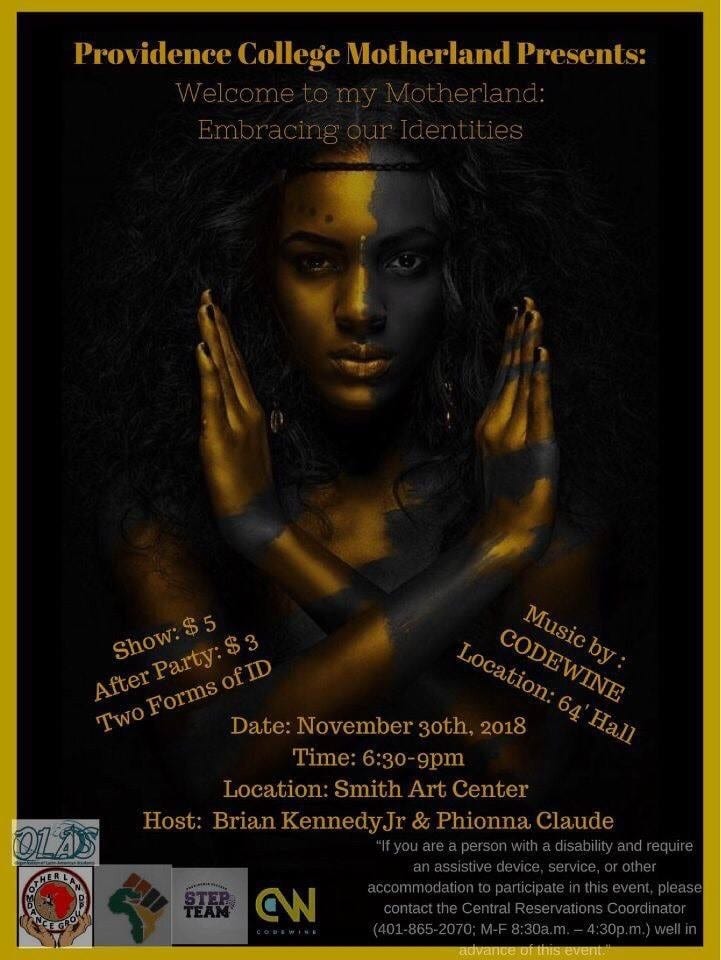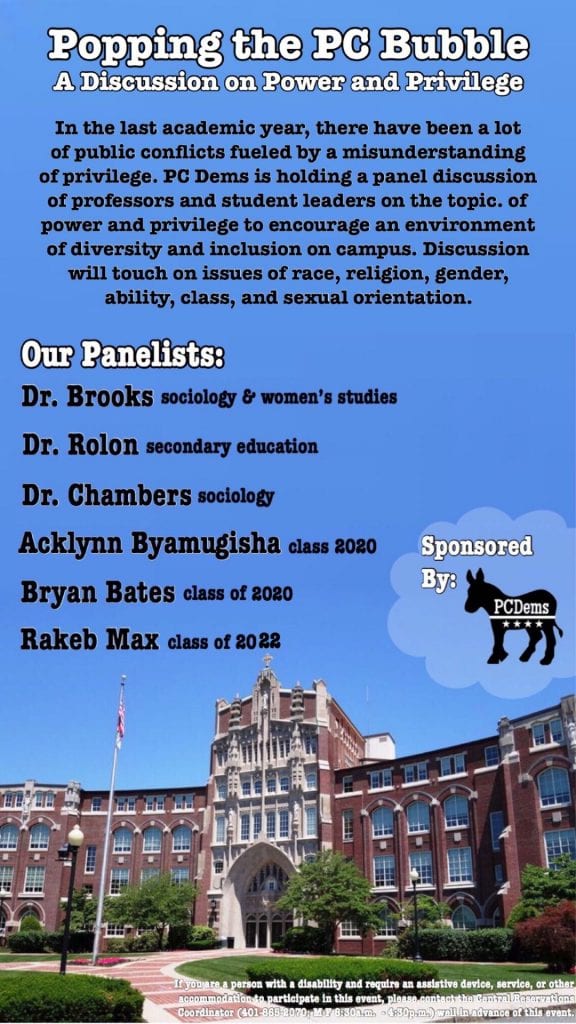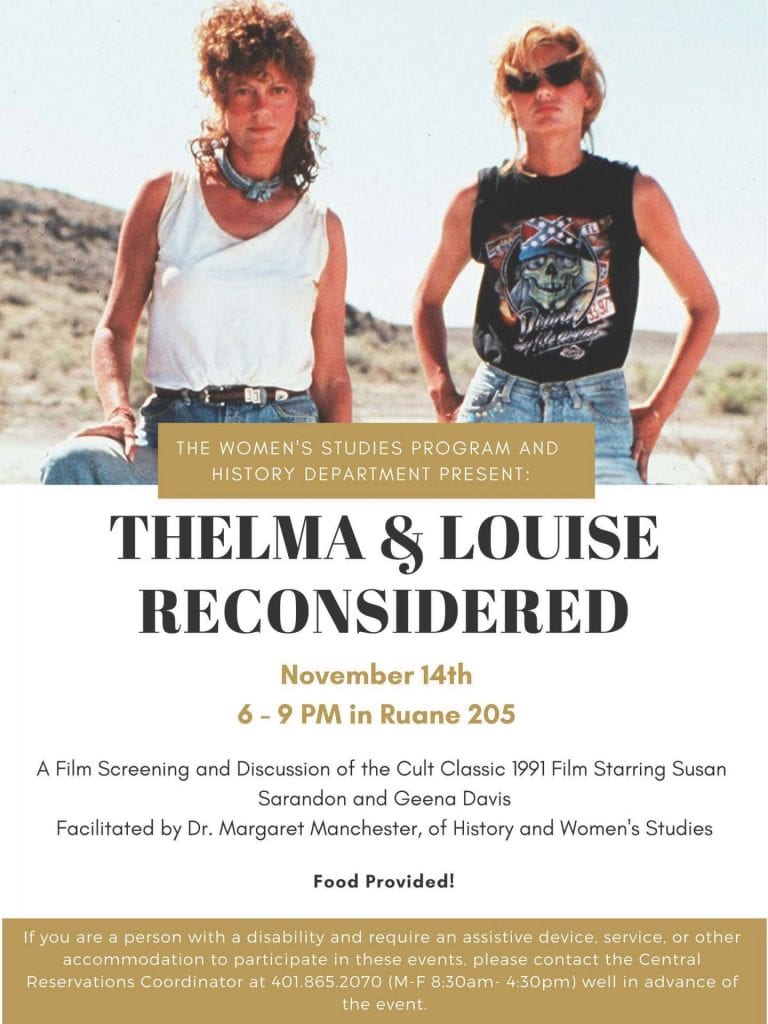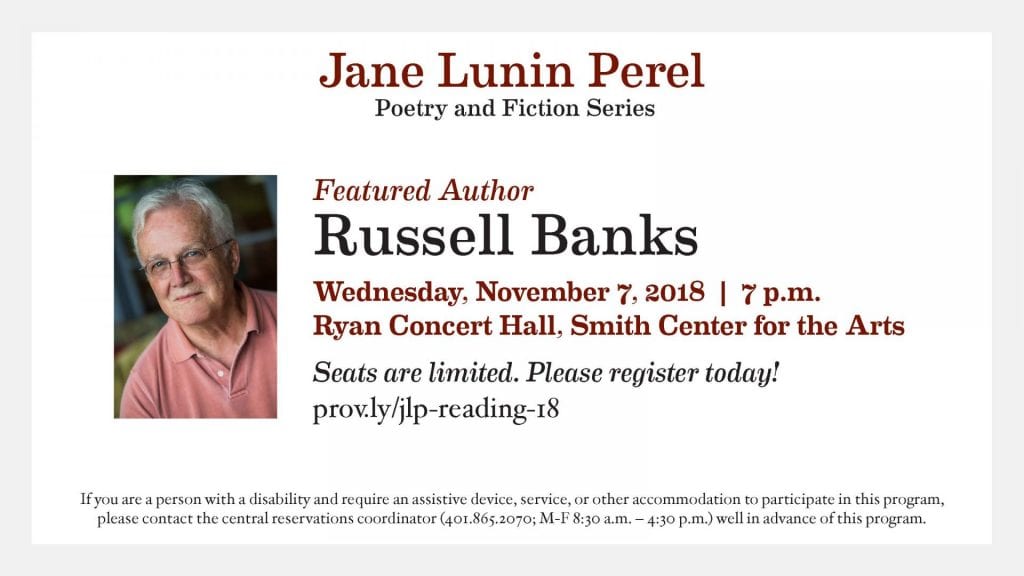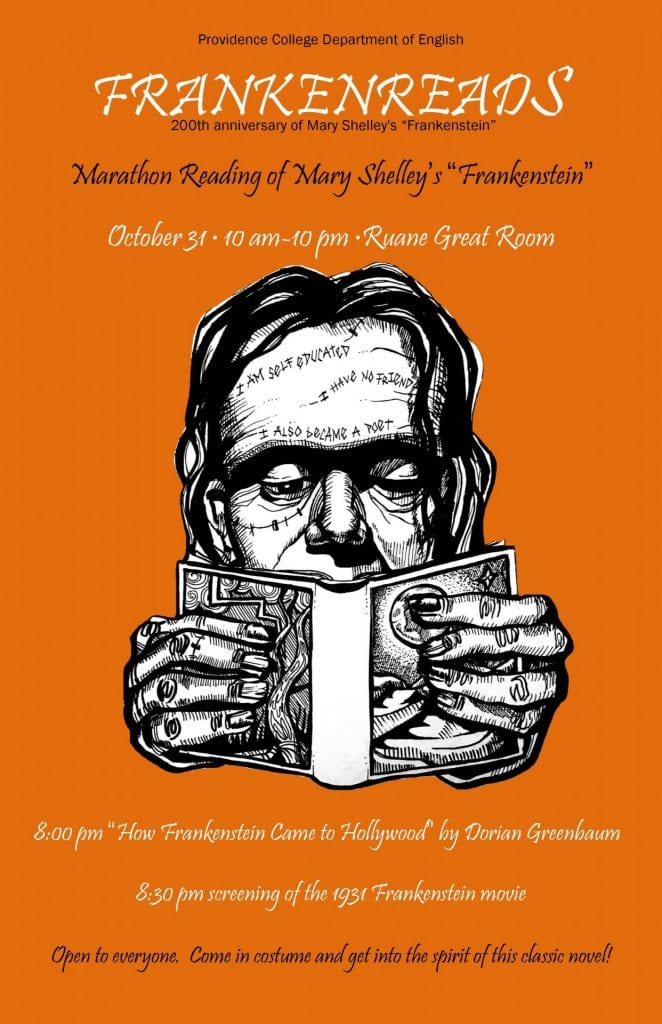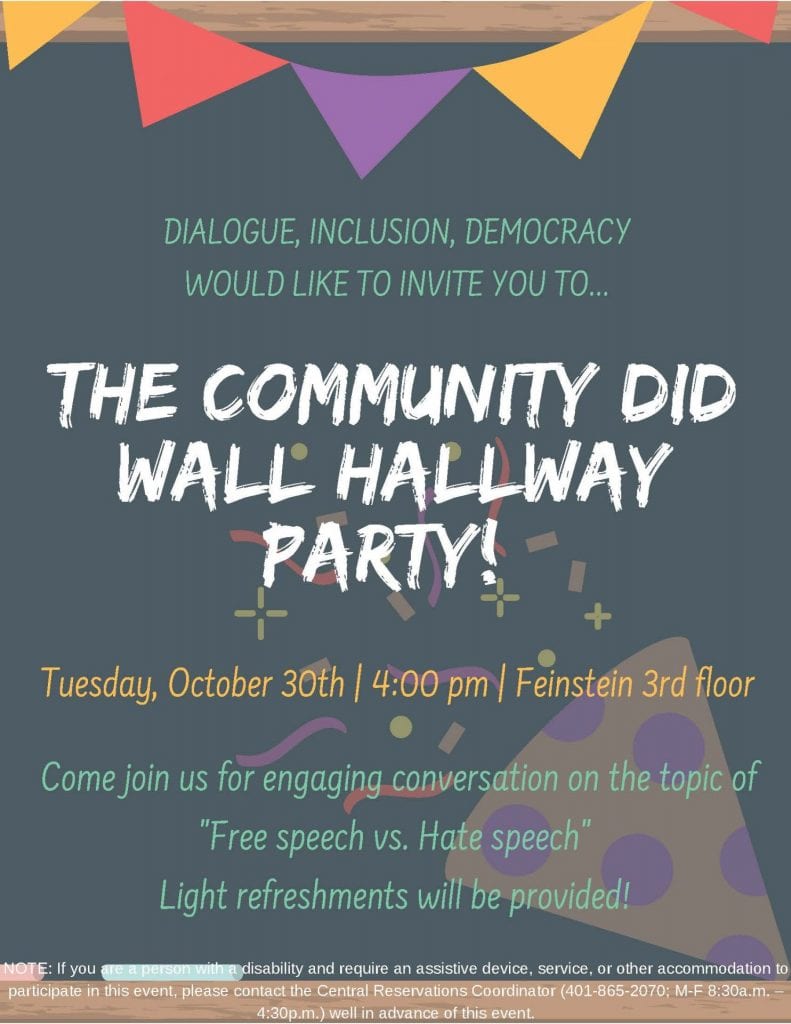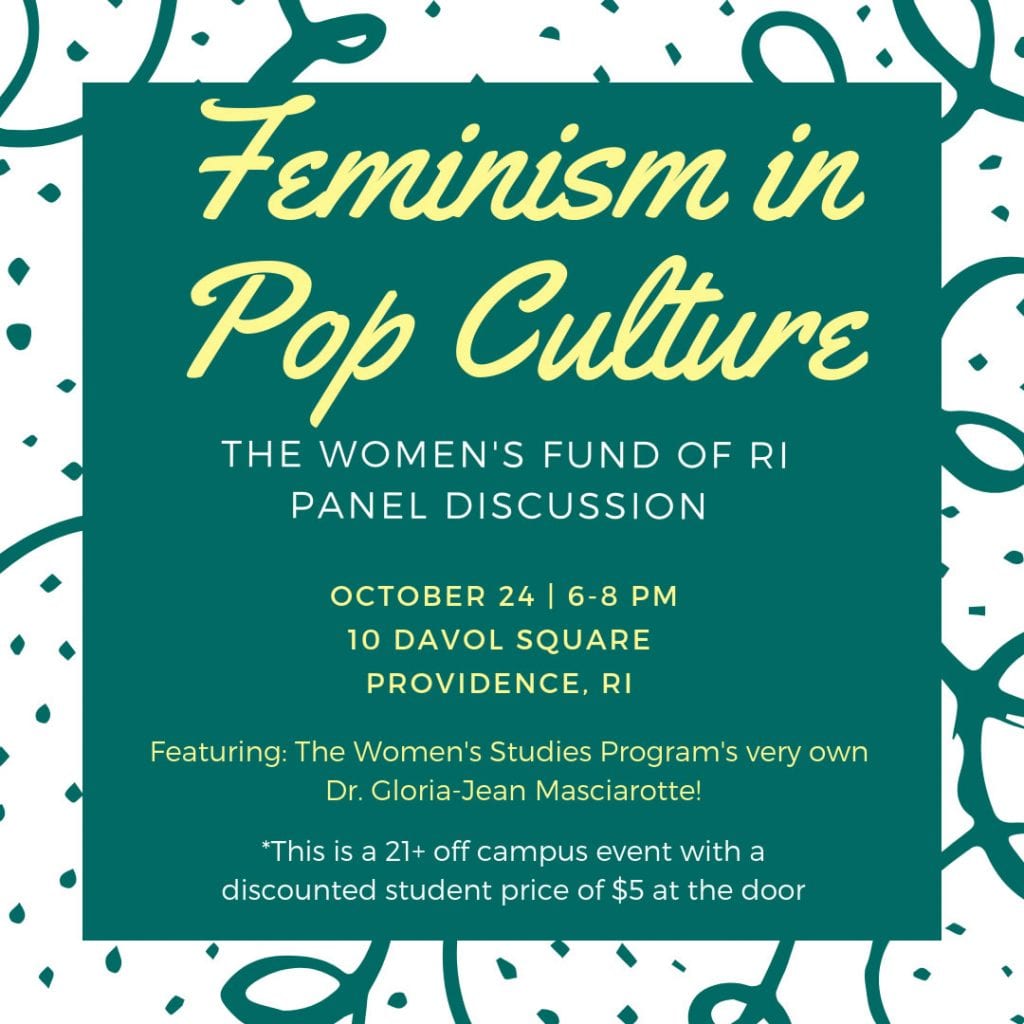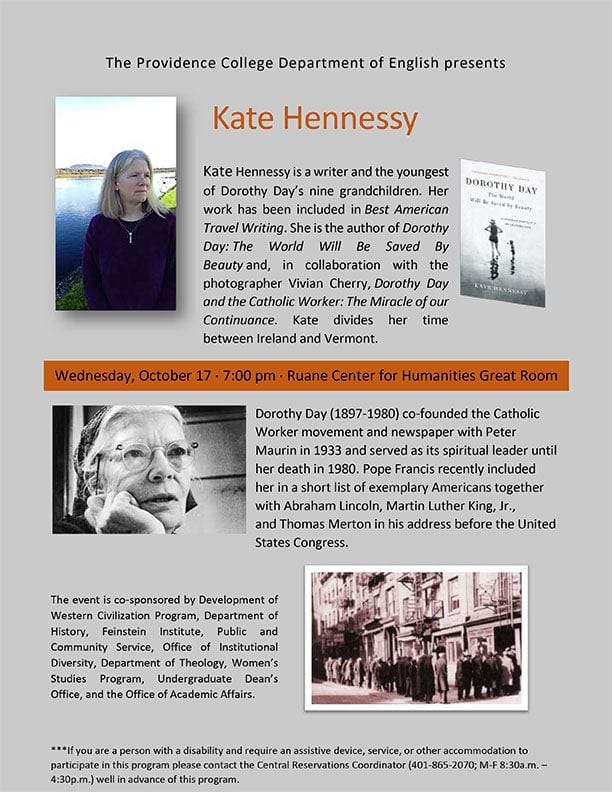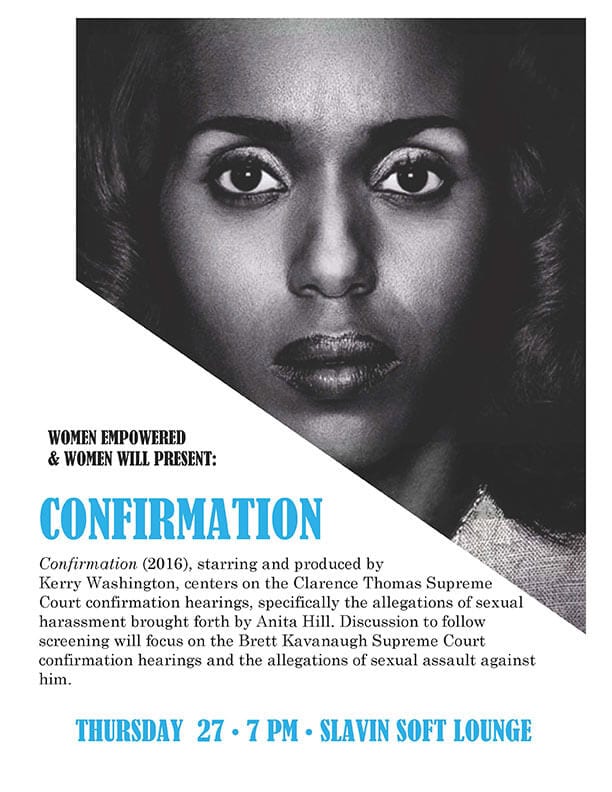 SPRING AND SUMMER 2018 EVENTS
JUNE 5, 6, AND 7
PROVIDENCE COLLEGE
DANCING ON THE MARGINS: BLACK WOMEN'S USE OF THE EROTIC IN THEIR QUEST FOR JUSTICE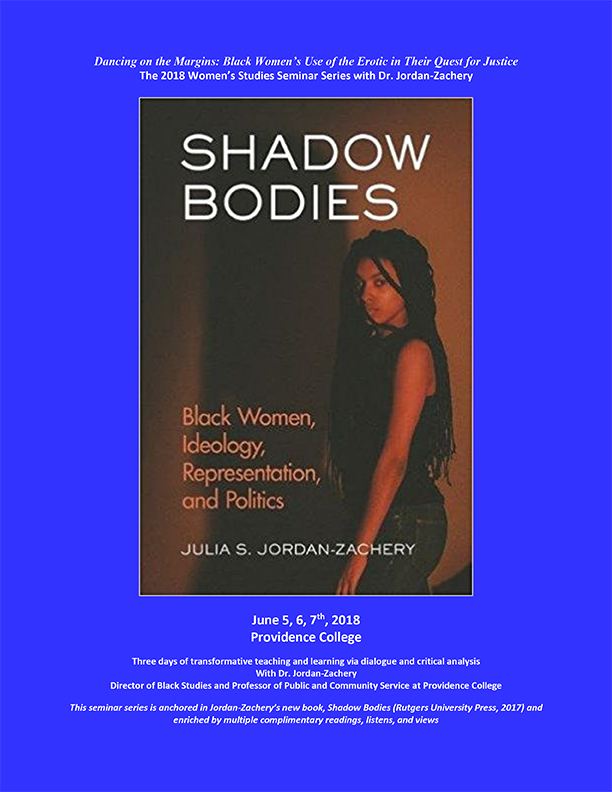 WEDNESDAY, APRIL 18, 4:30 – 6:00 PM, MOORE HALL 125
NATURALISTA EXPO 
Sponsored by Women Empowered
Cosponsored by Brotherhood, Motherland, Simply Healthy, Afro-Am, Black Studies,
Women's Studies & ISO.  This counts as a WMS Program Event!!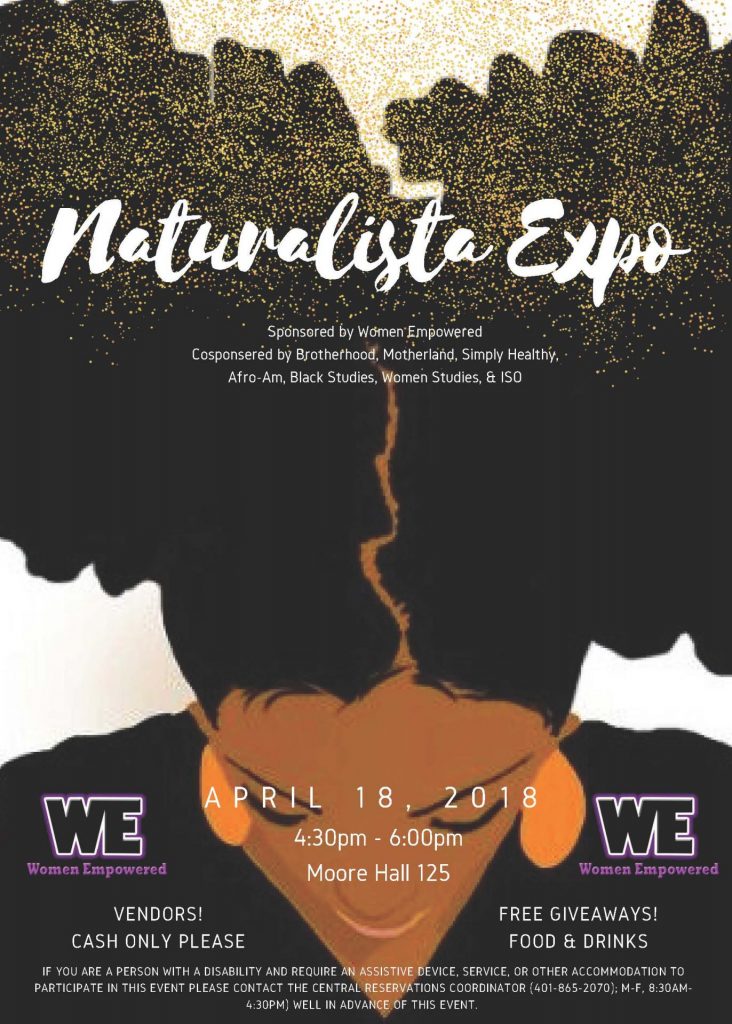 April 18, 7:00 pm, Moore Hall 125, BMSA Diversity Committee presents….#WhyIStayed:  A Discussion on Domestic Abuse with Beverly Goodin.
This counts as a Women's Studies Program Event!!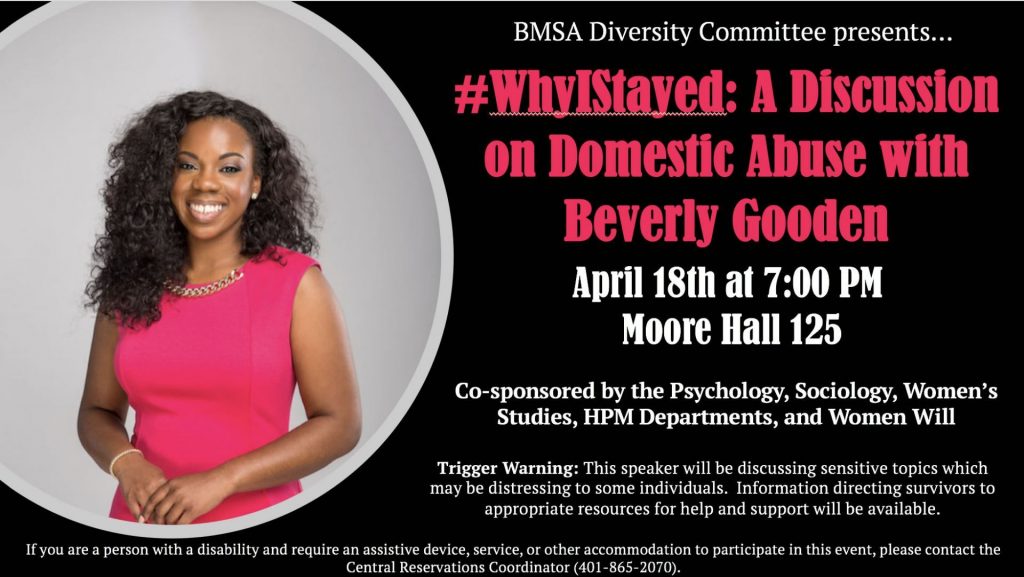 TUESDAY, APRIL 10, 7 – 11 PM, Moore Hall Lounge.  Sponsored by Women Will, Women Empowered, and The Personal Counseling Center.  This counts as a WMS Program Event!!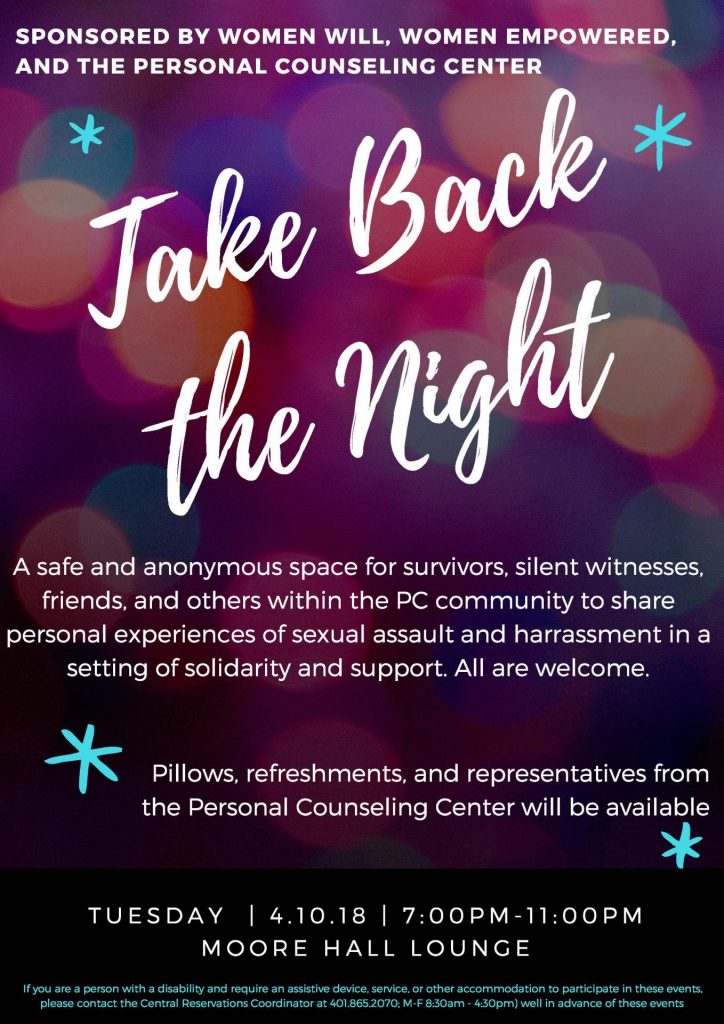 TUESDAY, MARCH 27, 5:30 PM IN BALFOUR UNITY CENTER, SLAVIN LL03. Black Women in Film Series, MUDBOUND, Hosted by the Black Studies Program. This counts as a WMS Program Event!!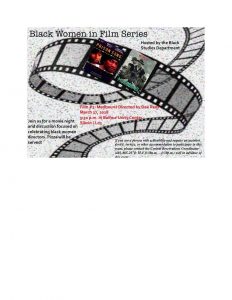 FRIDAY, MARCH 23: 6:00-8:00 PM; Starts in Slavin Center; Ends in Ruane 105 (RESCHEDULED FROM WEDNESDAY, MARCH 21 DUE TO WEATHER)
March Against Homophobia and Transphobia: Join Us to Stand in Solidarity with the LGBTQ* Community
Organized by SHEPARD.
We hope to see you there!!!
TUESDAY, MARCH 20, 7 PM in Ruane 105, with Free Pizza!
Screening and Discussion (led by Dr. Margaret Manchester) of the film Wonder Women.
Organized by Dr. Manchester of History and Women's Studies, with co-sponsorship from Women's Studies, Women Will, and American Studies.
We hope to see you there!!!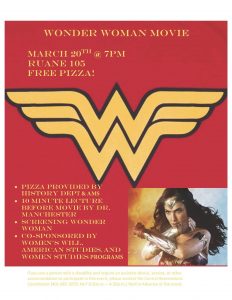 MONDAY, MARCH 19: 6-9 PM in McPhails:
Women of PC Appreciation Event: In Celebration of Women's History Month and International Women's Day
Includes a faculty panel; a panel of women student leaders of women, gender, and intersectional-centered advocacy and justice groups on campus; a performance by BOW/Spoken Word; and a performance by ANACLASTIC.
Organized by BOP with participation and publicity support from Women's Studies and women's and gender and intersectional justice-centered student groups on campus–including BMSA, Women Empowered, Women Will, and SHEPARD.
We hope to see you there!!!
Wednesday, February 21, 11:30am-1:00pm, Aquinas Lounge
Unequal Coverage: Book Launch and Public Lecture.
Come Out To hear Women's Studies Affiliated faculty member, Jessica Mulligan, speak about her new co-edited book,  Unequal Coverage: The Experience of Health Care Reform in the United States. This Counts as a Women's Studies Event!!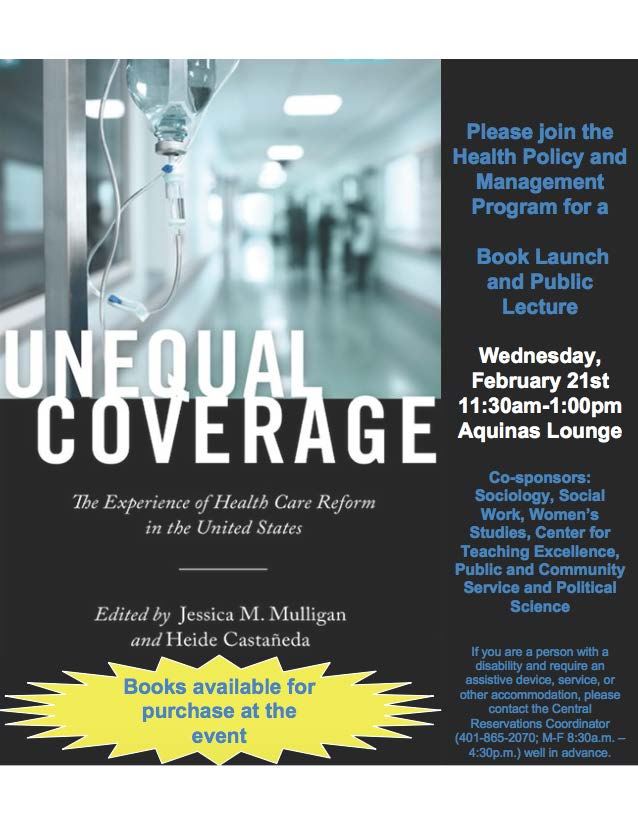 Wednesday, February 21, 7 PM, Saturday, February 24, 1 PM
The Vagina Monologues (two shows). Organized and performed by PC students. Wednesday, February 21, 7 PM; Saturday, February 24, at 1 PM, at the Columbus Theater, 270 Broadway, in Providence. Tickets are 12 dollars for non-students, 8 dollars for students, and can be purchased at the door via cash or check, or at pcvday2018@outlook.com. All proceeds benefit the Sojourner House, a resource and advocacy center for victims of domestic abuse, and the VDay organization, a global movement to end violence against women and girls around the world. Donate to the cause at https://www.gofundme.com/vday2018.  This counts as a Women's Studies Event.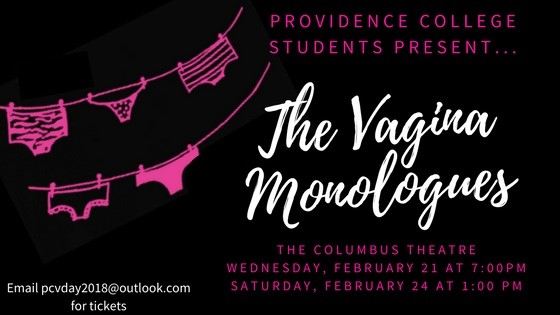 Tuesday, February 20, at 5 PM in the Ruane Great Room
The Women's Studies Program Enthusiastically Invites You to Join Us for a Talk By Dr. Theresa Walton-Fisette
This Counts as Women's Studies Event!!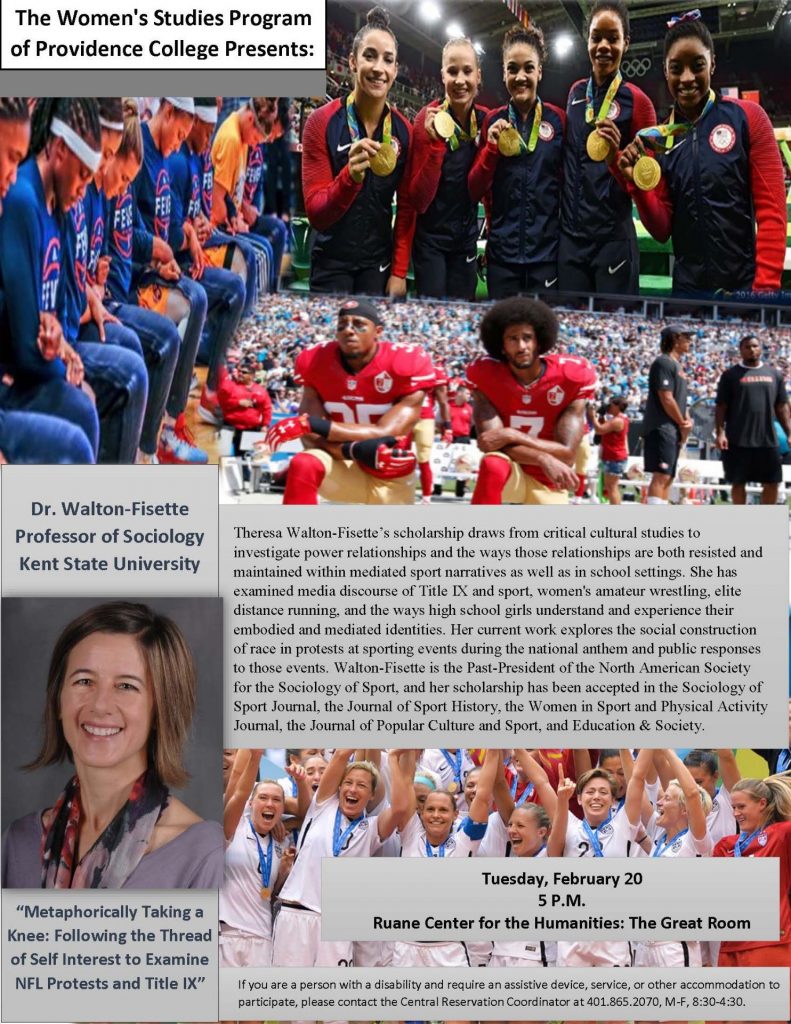 Fall 2017 Events
Attention Women's Studies Community!! Upcoming Reading and Book Signing with Poet Natasha Trethewey!! See Flyer Below. Please Note That This Event Counts as a Women's Studies Event!!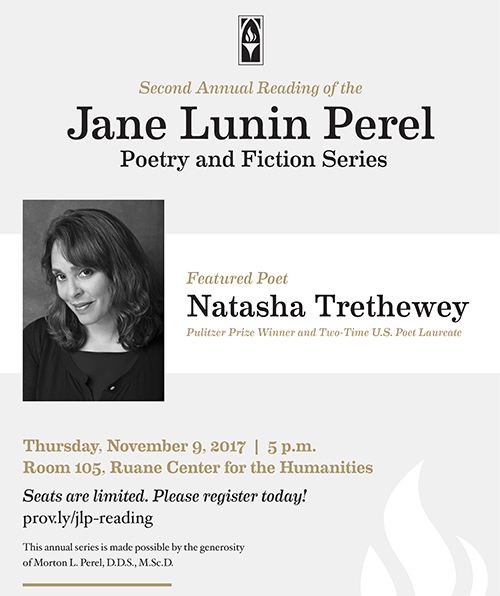 This event is Co-sponsored by the Women's Studies Program and counts as a WMS Event!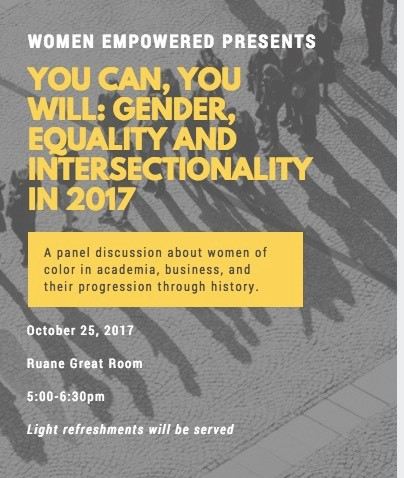 This counts as a Women's Studies Program Event!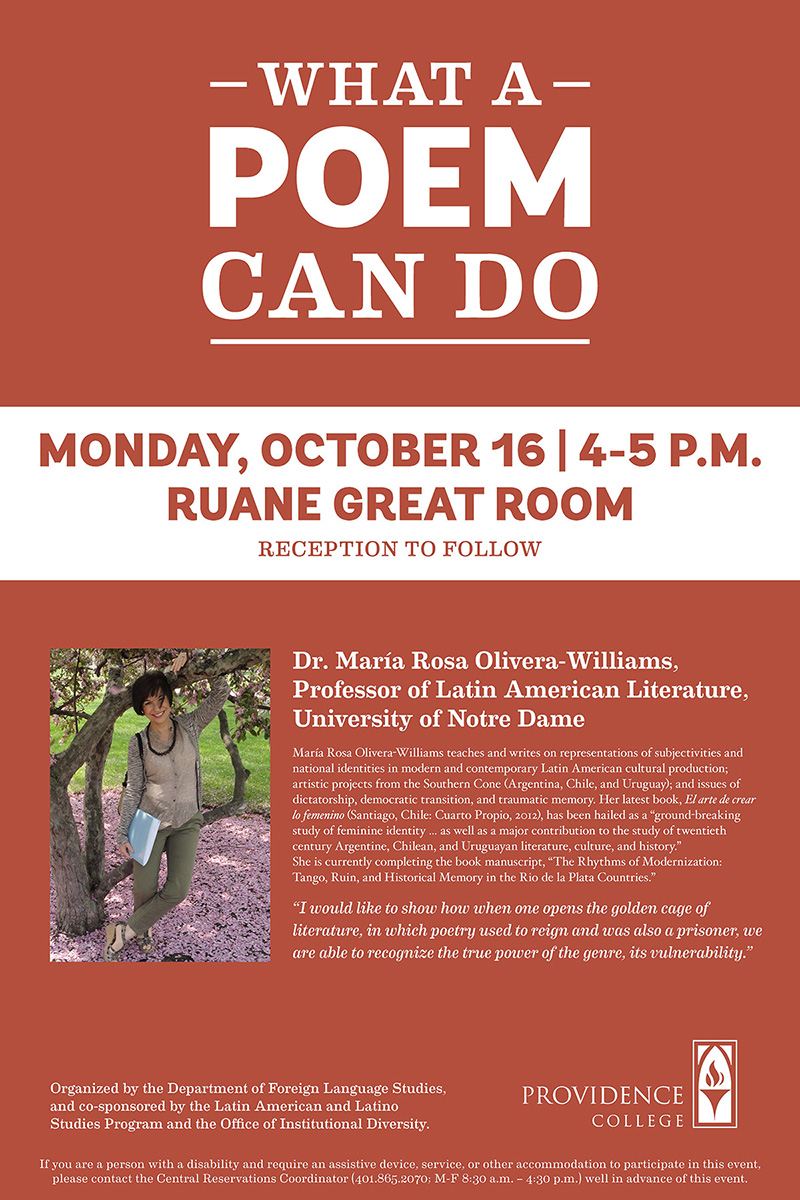 Take Note! The Black Women and Girls Symposium is coming up soon!
Friday, September 8, Keynote Address at 6:15 PM; Saturday, September 9, Panels All Day! Address and Panels are free and open to the public. See http://bwgsymposium.org/ for registration details and more!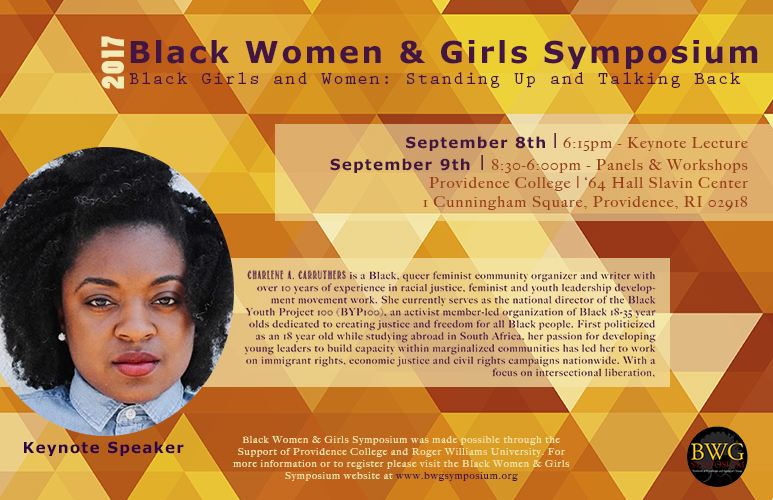 Recent News & Events
2017 Award Winners:
Congratulations to our graduating Women's Studies award winners, left to right, Molly O' Leary, Joanna Riccitelli, Victoria Graceffa, and Aoua Coumbassa. And congratulations to ALL of our Women's Studies graduating seniors!!! You will be greatly missed!! We are so excited for you–please do keep in touch!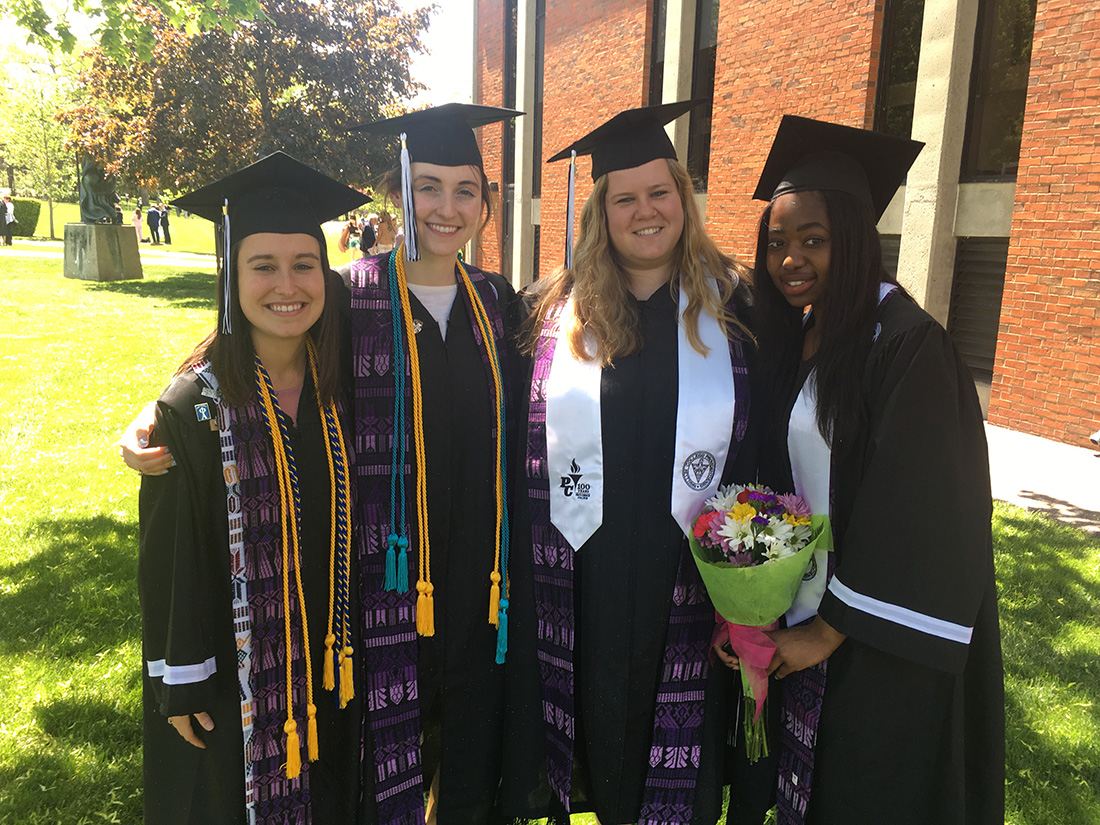 Speaking of all of our graduating seniors, here they are, below, in their last official Women's Studies Capstone course of 2017, with the amazing Dr. Gloria-Jean Masciarotte, the winner of the Providence College 2016-2017 Recognition for Teaching Excellence by Adjunct Faculty Award! Congratulations to Dr. Masciarotte!! The Providence College Women's Studies Program is beyond lucky to have you on board.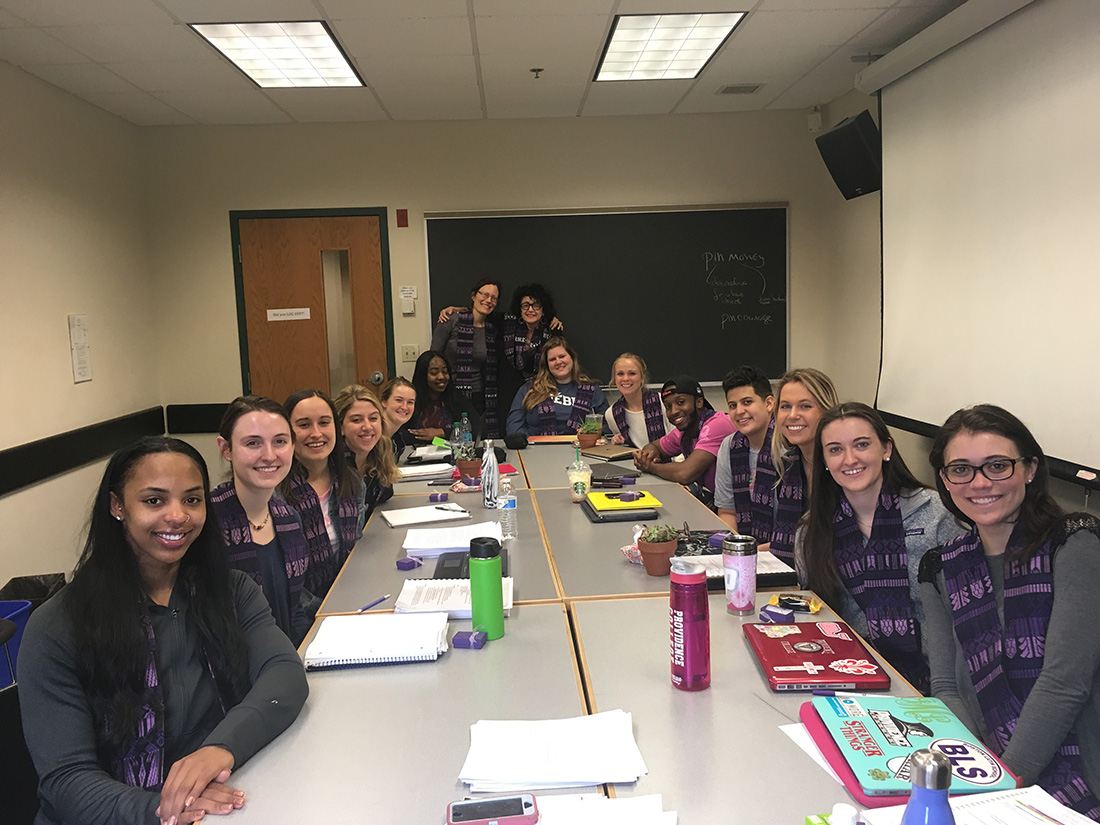 Finally, check out our group photo from our Senior-Faculty Dinner to celebrate all of graduating seniors–go Women's Studies students of the class of 2017!! The sky is the limit!! We are very proud of each and every one of you, and, again, please do keep in touch!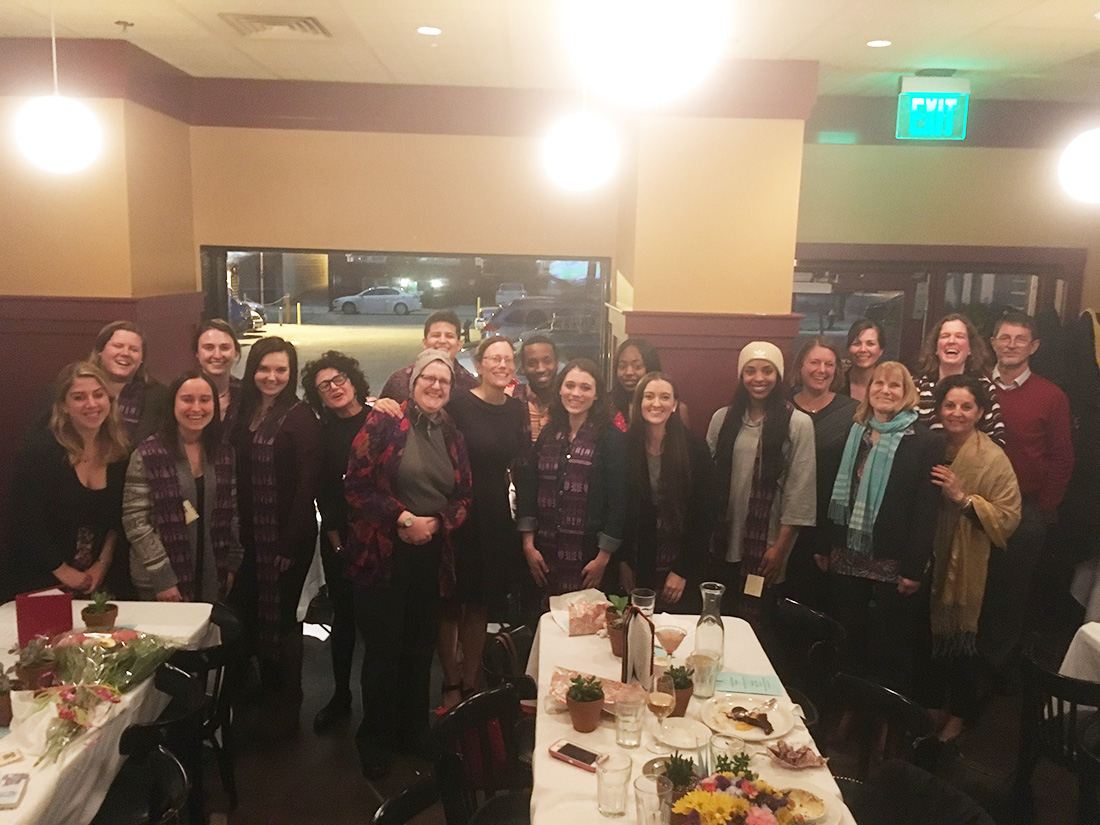 Monday, April 24, 7 PM, in Guzman Hall Room 250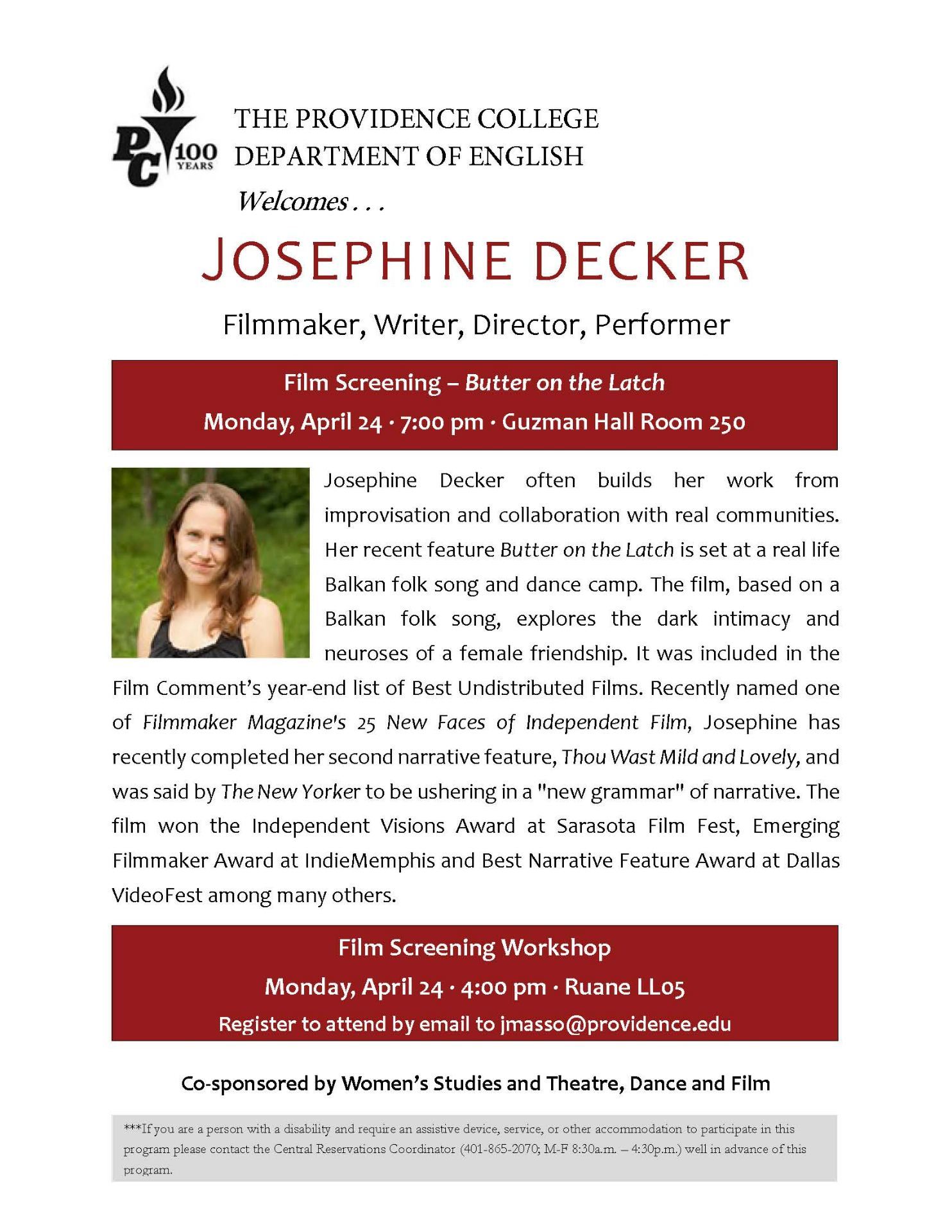 This counts as a Women's Studies event!
Monday, April 10th, Ruane Great Room, 2:30pm – 3:30pm
The Providence College Department of Psychology presents: Dr. Michelle "Mikki" Hebl, Rice University, Professor of Psychology & Professor of Management
Title: "The Power of FeMANists on Influencing Gender Equity"
Abstract: In this talk, Dr. Hebl will describe her recent research examining the role that men can play in advancing positive attitudes and behaviors toward gender equity. She will discuss four studies that show a) men are not very persuaded by women who are advancing gender equity, and b) men are more persuaded by other men to feel more favorably about, intend to engage, and actually engage in behaviors that promote equitable outcomes and action.
* Presentation made possible through the generosity of the Krakowski family. *
This counts as a Women's Studies Event!
Monday, April 10 at 7 pm, in the Fiondella Great Room
A Talk by Lauren Marino (class of 1989)

This counts as a Women's Studies event!
Thursday, April 6, 5:30 – 7:30 PM, Balfour Unity Center

This counts as a Women's Studies Event!
Thursday, April 6, Panel Discussion on Sexual Assault 
Organized by the Sociology Club, 7:30 PM; Slavin Overlook Lounge
This counts as a Women's Studies Event!
Tuesday, April 4, 7:30-11:30 PM, 64 Hall
Take Back the Night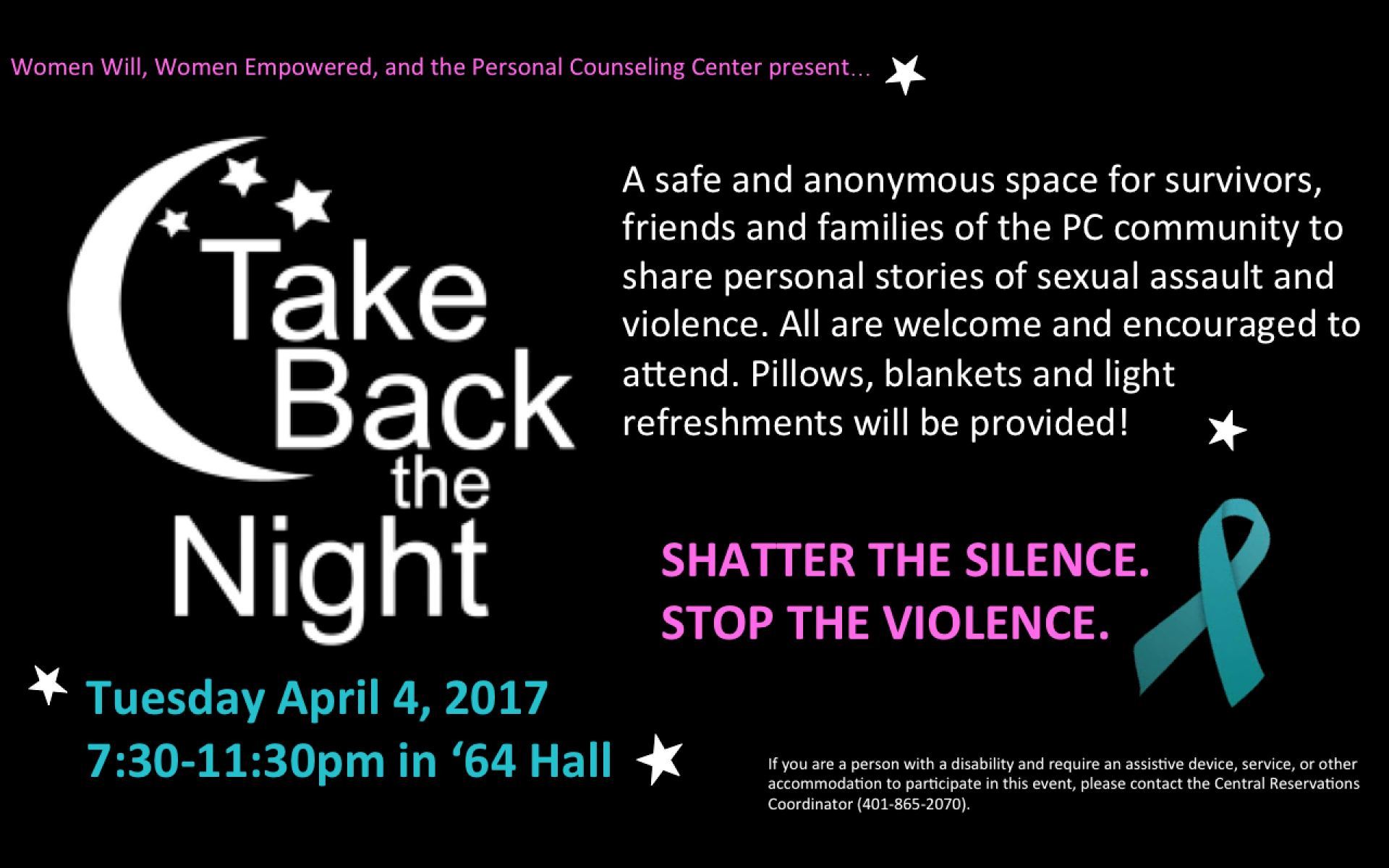 This counts as a Women's Studies event!
Tuesday, April 4, 5:00 PM, Slavin 112, (Fishbowl)
Sexual Assault Panel, organized by the Sociology Club
This counts as a Women's Studies event!
Friday, March 31, 2017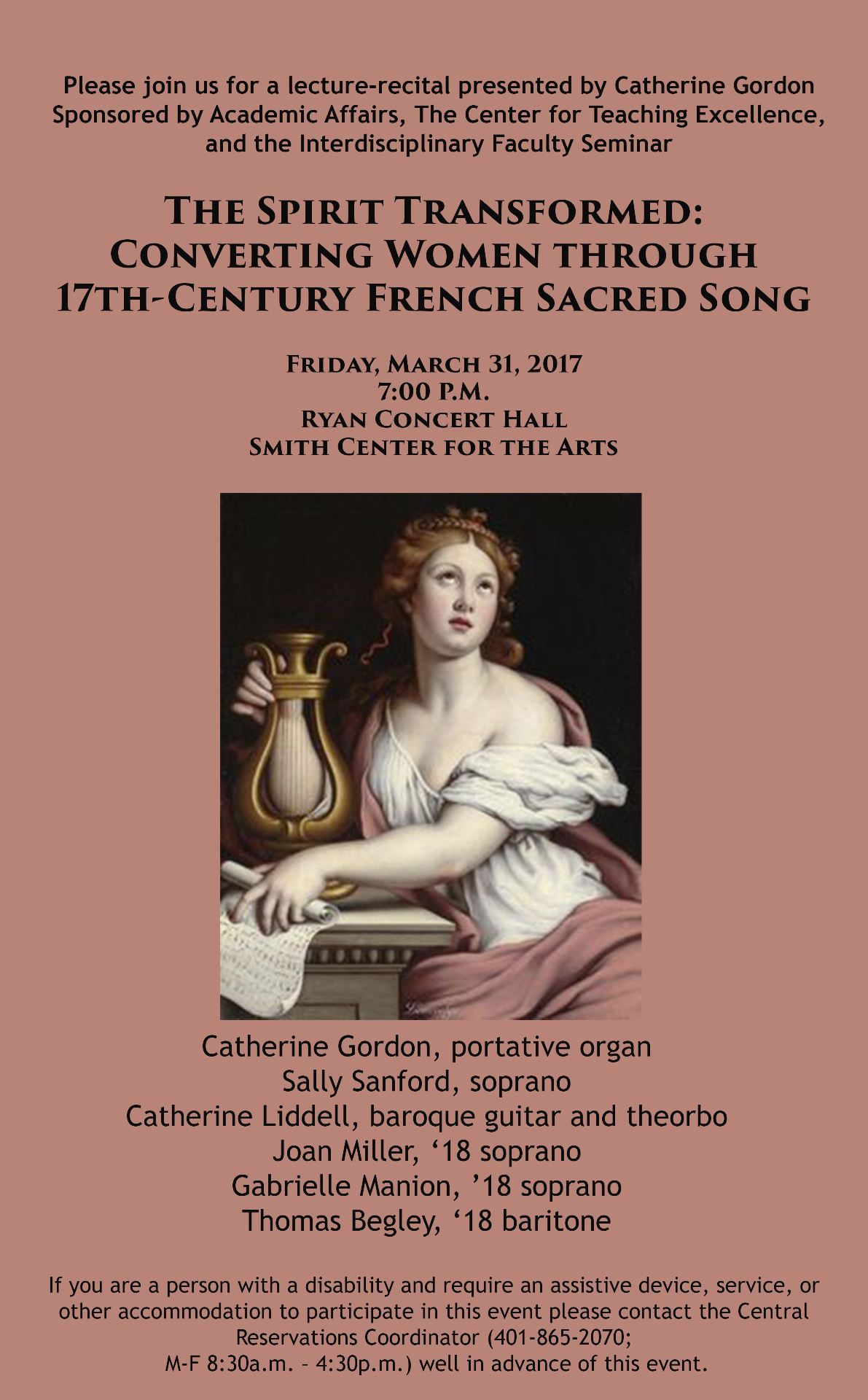 This counts as a WMS Event!
MONDAY, MARCH 27, 2017, 4:30pm, MOORE HALL III
The Office of Institutional Diversity at Providence College presents
Beyond Cynicism and Good Intentions:
The Centrality of Anti-Racist Movements in the Struggle for Justice
A lecture and Q&A featuring
DR. IBRAM X. KENDI
Author of Stamped From the Beginning: The Definitive History of Racist Ideas in America
Winner of the 2016 National Book Award for Nonfiction and
Assistant Professor of History/University of Florida
This counts as a Women's Studies event!